Scabbard
Regular price

$99.00

Sale price

$69.00

Unit price

per
-30% OFF
✅ 12 powerful blade colors (more)
✅ Blade effects like flash-on-clash, smooth swing, and (more)
✅ 16 Soundfont movie quotes from Ahsoka, Anakin, Luke, and (more)
✅ Battle-ready construction with aluminum hilt & durable blades strong enough to withstand duels with friends or enemies (more)
✅ Fast USB charging and long battery life will keep you in the fight (more)




The Sith Sabers are more than a toy or playful accessory. These are realistic, replica duel-ready sabers.
.
Whether you're preparing your next cosplay or gearing up for the duel of a lifetime, we're here and ready to help!

Because our blades are durable polycarbonate and our hilts are weighted alloys, you can battle to the death in any duel without worrying about compromising your base-lit saber. Neopixel sabers should be used for light dueling only.
Our flash-on-clash will have you feeling like a true Sith warrior. Every time your blade hits another saber or object the blade flashes.
Our Sabers are all equipped with the same
single-button operation
system. For more info on the operation of the saber and how to use it click
here
.
What's included:
All Sith Sabers base-lit lightsabers will arrive securely packaged and include the hilt, blade, instruction manual, charging cable, and toolkit.
FAQs

When will my order ship out?


Our orders usually take 2 days to ship out.



When will I receive my order?


Most orders are delivered within 7-21 days.



Can I track my order?


You will receive order confirmation and shipping notification emails to track your order (check your spam folder if not received).



Is there assembly required?


Our lightsabers are shipped securely with the hilt and blade separated. Full assembly requires a single step of securing the blade in the hilt using set screws (included).



What is the difference between Baselit and Neopixel lightsabers?


You can read more about Base-lit (RGB) and Neopixel lightsaber features here.



When can I chat with a live person?

Contact our chat support anytime M-F 8a-4p Pacific, or by contacting us via info.sithsabers@gmail.com.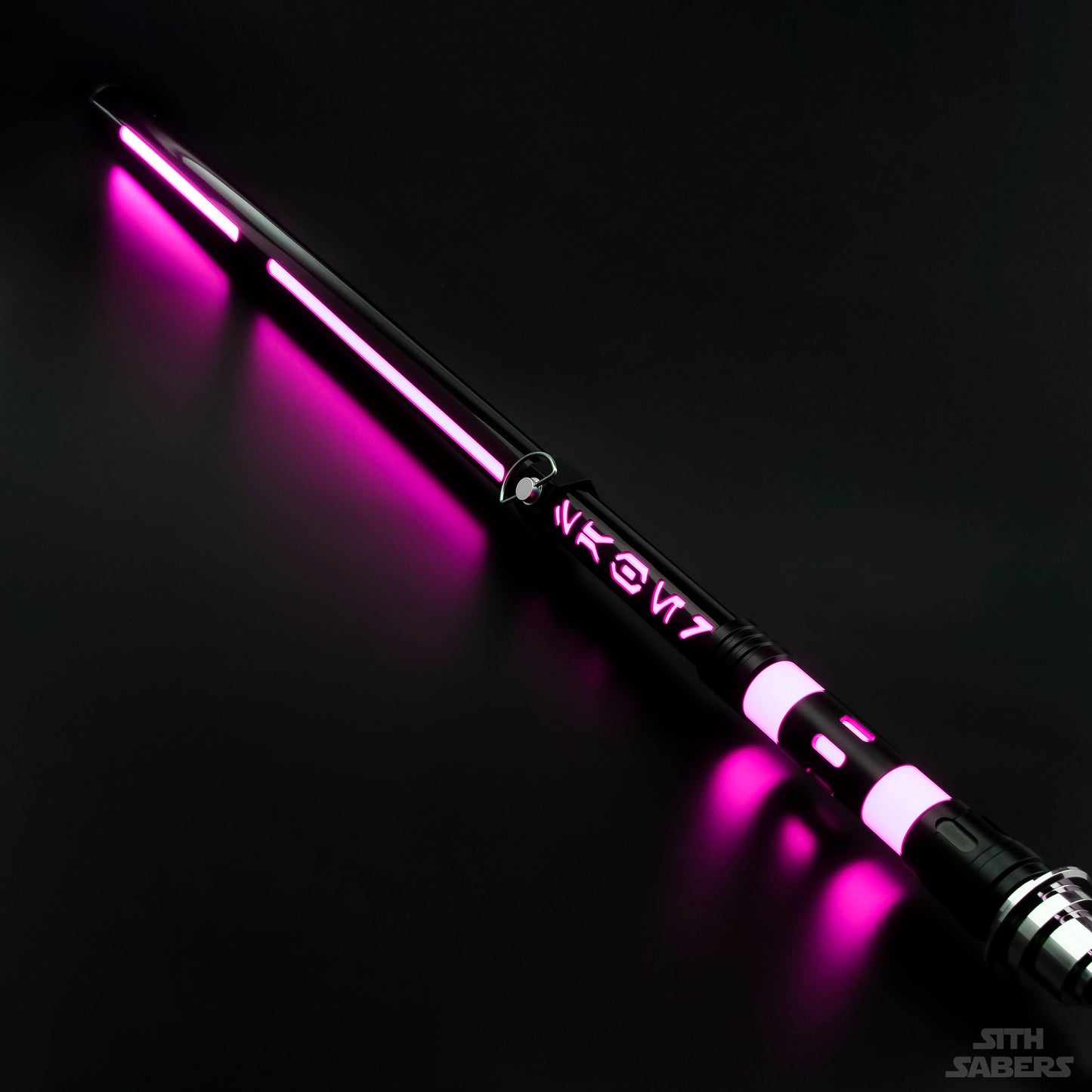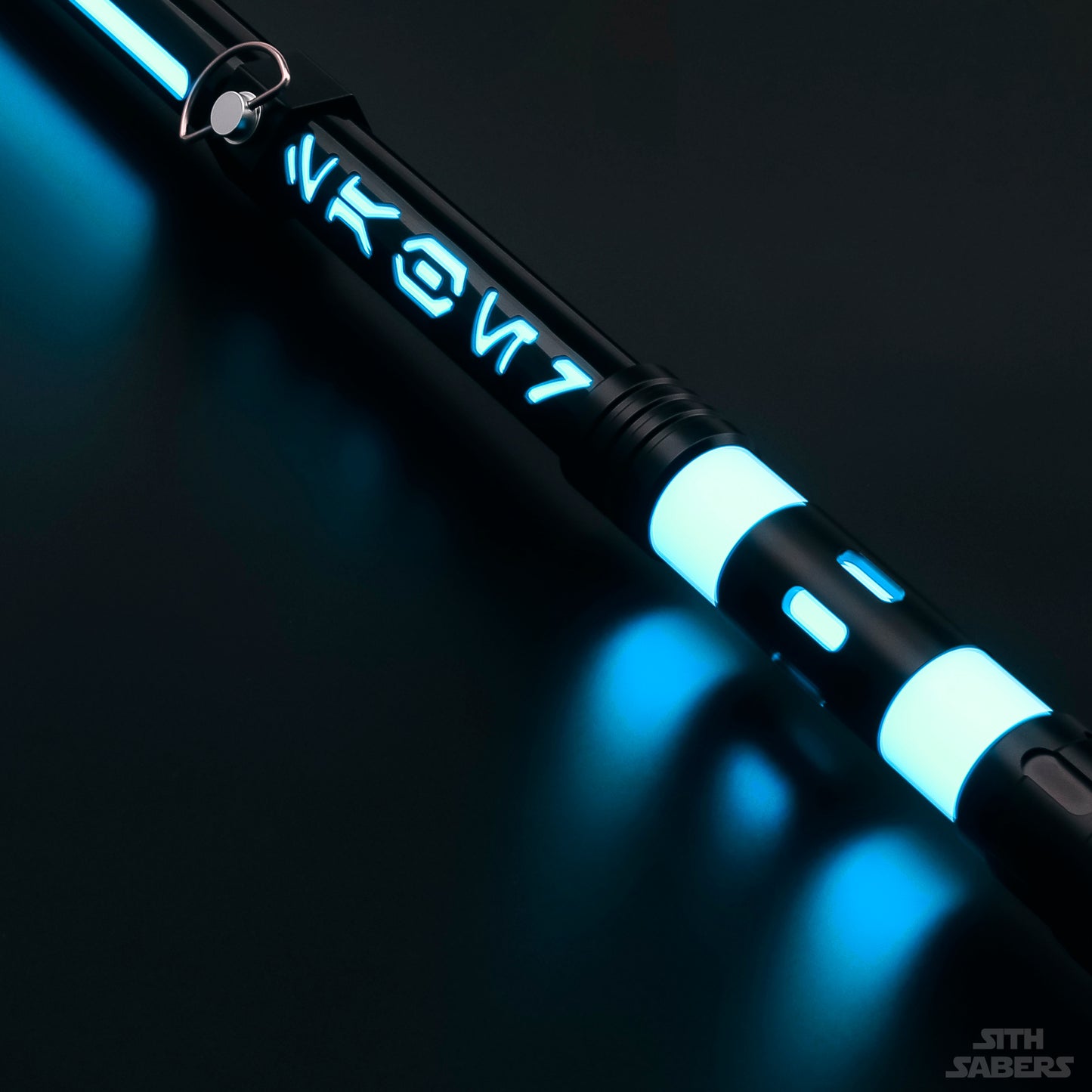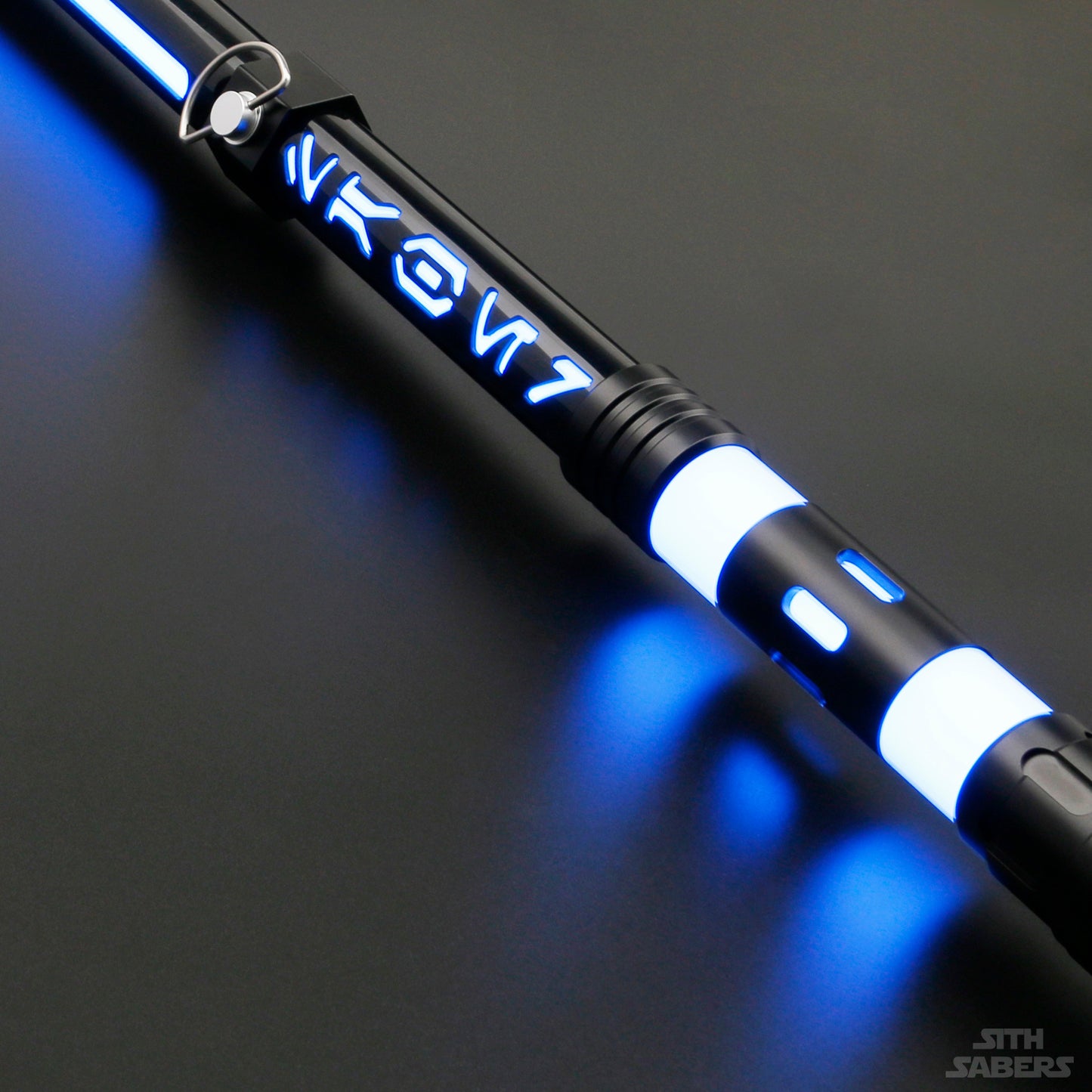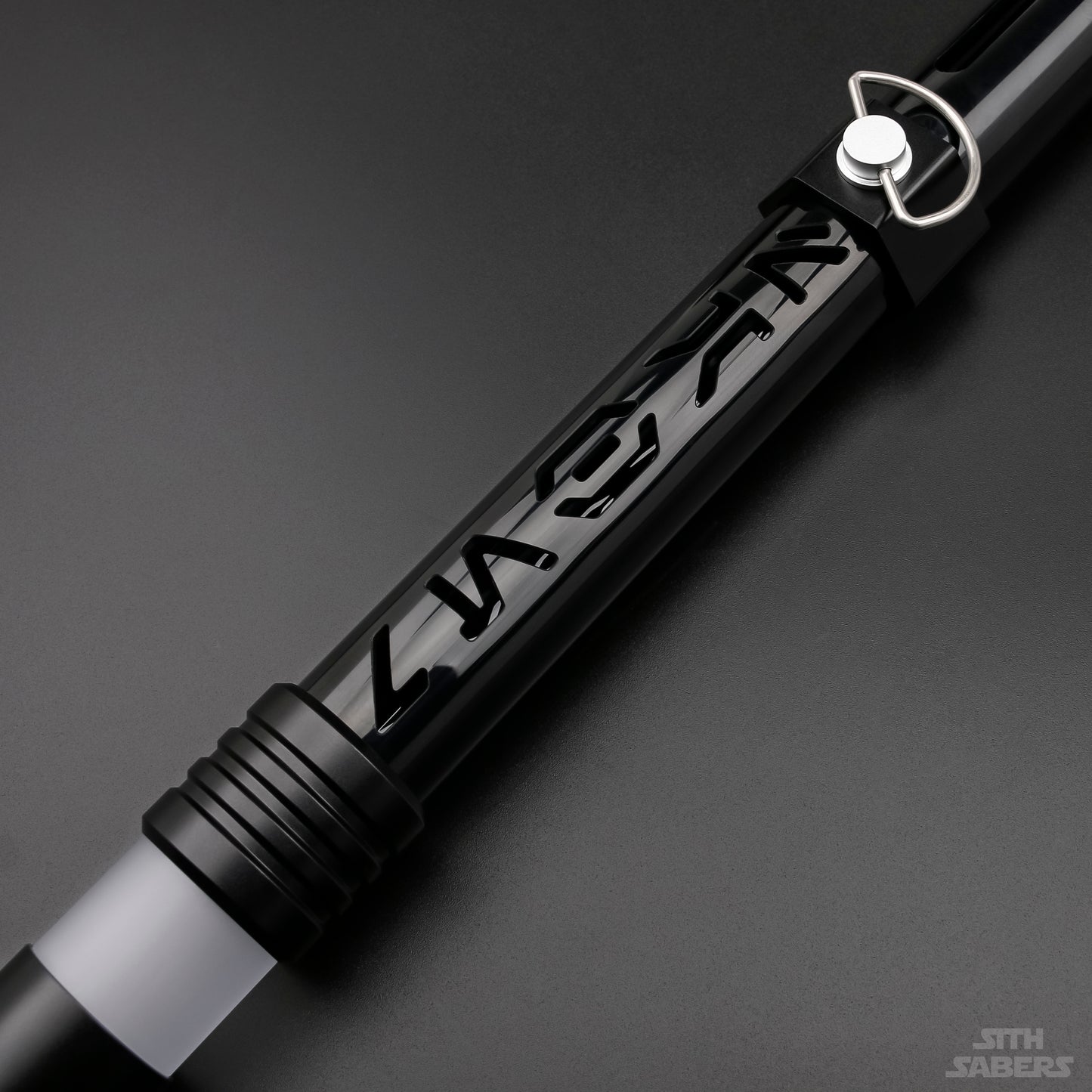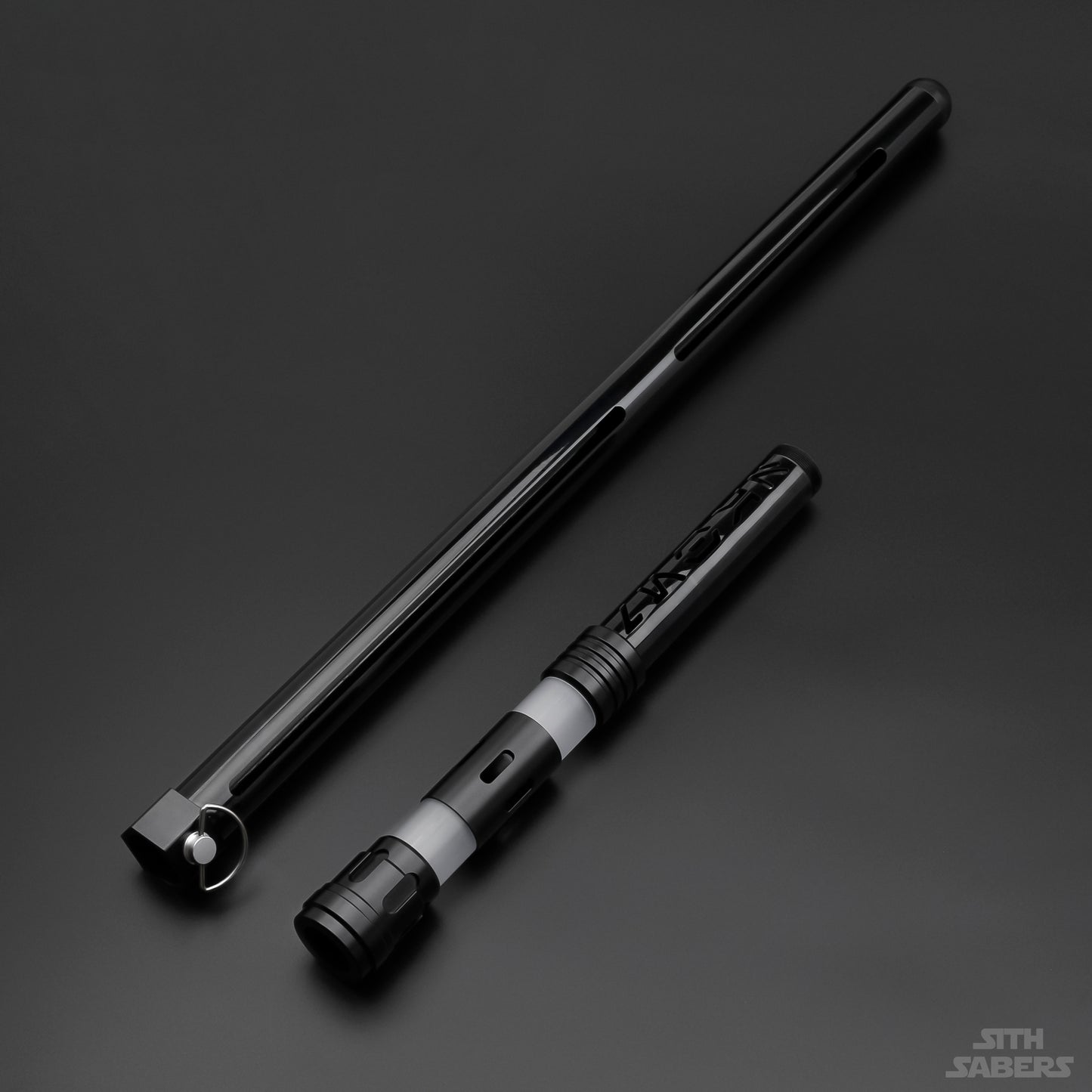 Easier than home depot!
Wasn't sure what I wanted for my saber sheath but this solution looks great!
Amazingly Versatile
The Scabbard is just like you see and it is beautiful. However, even more than just being beautiful, it's extremely versatile as the scabbard is made of multiple parts that be screwed and unscrewed. This means you can change at what height you want to set the D-ring. You can also adjust the length of the scabbard to meet the length of your lightsaber. The full length is made for 36 inches but by removeing some parts of it, you can adjust the scabbard to work with shorter blades all the way down to 24 inches.
I actually ended up getting a 2nd scabbard from Sith Sabers as well.
I highly recommend it!
Feature Comparison
Base-lit Features

16 Soundfonts: Ahsoka, Anakin, Cal Kestis, Count Dooku, Darth Maul, Darth Vader, DSR, Emperor, Kylo Ren, Luke Skywalker, Mando, Obi-Wan Kenobi, Princess Leia, Revan, Starkiller, & Yoda

 

12 Saber colors: Red, Blue, Yellow, Cyan, Light Blue, Green, Pink, Orange, Puple, Neon Green, Magenta, & White

 

4 Blade effects: Blaster, Ghost, Pulse, & Stable

 

Other Features:

▫️ Flash-on-clash: Saber reacts with physical strikes

▫️ Motion ignition: Shake lightsaber to ignite saber blade

▫️ Smooth Swing: Saber hums with movement

 

Specs: Aircraft-grade aluminum hilt, 43" total length, 32" polycarbonate blade length, 2,000mAh rechargeable battery, 3-hour charging time, 12 Watt RGB lamp, female coupler

Neopixel Features (SN-Pixel v4)

27 Soundfonts: Ahsoka, Anakin, Cal Kestis, Count Dooku, Darth Maul, Darth Vader, DSR, Emperor, Kylo Ren, Luke Skywalker, Mando, Obi-Wan Kenobi, Princess Leia, Revan, Starkiller, & Yoda . . . and more!

 

12 Saber colors: Red, Blue, Yellow, Cyan, Light Blue, Green, Pink, Orange, Puple, Neon Green, Magenta, & White

 

9 Blade effects: Cross, Fire, Ghost, Inifinite, Pulse, Rainbow, Stable, Unstable, & Wave

 

9 Ignition effects: Charge, Drop, Drop-stack, Ends, Fire, Jump, Standard, Movement, & Tip

 

Other Features:

▫️ Flash-on-clash: Saber reacts with physical strikes

▫️ Motion ignition: Shake lightsaber to ignite saber blade

▫️ Smooth Swing: Saber hums with movement

▫️ Motion control: Activate light/sounds with saber movements
▫️ SD Card 16gb
▫️ Bluetooth (Android OS)

 

Specs: Aircraft-grade aluminum hilt, 43" total length, 32" polycarbonate blade length, 3,200mAh rechargeable battery, 3-hour charging time, 50 Watt pixel lamp, built-in LED lightbar, female coupler

Proffie (v2.2)

25 Soundfonts: Ahsoka, Anakin, Cal Kestis, Count Dooku, Darth Maul, Darth Vader, DSR, Emperor, Kylo Ren, Luke Skywalker, Mando, Obi-Wan Kenobi, Princess Leia, Råevan, Starkiller, & Yoda . . . and more!

 

12 Saber colors: Red, Blue, Yellow, Cyan, Light Blue, Green, Pink, Orange, Puple, Neon Green, Magenta, & White

 

25 Blade effects: Cross, Fire, Ghost, Inifinite, Pulse, Rainbow, Stable, Unstable, & Wave . . . and more!

25 Ignition effects: Charge, Drop, Drop-stack, Ends, Fire, Jump, Standard, Movement, & Tip . . . and more!

 

Other Features:

▫️ Flash-on-clash: Saber reacts with physical strikes

▫️ Motion ignition: Shake lightsaber to ignite saber blade

▫️ Smooth Swing: Saber hums with movement

▫️ Motion control: Activate light/sounds with saber movements
▫️ SD Card 32gb
▫️ Bluetooth

 

Specs: Aircraft-grade aluminum hilt, 43" total length, 32" polycarbonate blade length, 3,200mAh rechargeable battery, 3-hour charging time, 50 Watt pixel lamp, built-in LED lightbar, female coupler